---
2021-05-25
---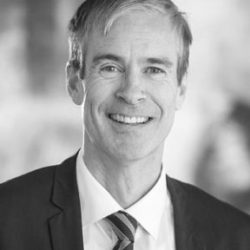 VD Thomas Warthoe
"Our long-term goals are to be a unicorn and one of the big players in health and well-being industry, with the vision to enable decentralized testing."
For those how who have not yet heard so much about Qlife, can you describe the company, what you do, and which markets you address?
We are a high-tech medical device company that develops IVD- (In-Vitro Diagnostic) units. We seek to revolutionize the clinical biomarker testing of whole blood by taking it out of the lab and into the homes of the people who needs it the most. Our technical product, Egoo.health ("Egoo") enables decentralized testing of biomarkers and virus, both within healthcare environment and in people's homes. Egoo gives people access to secure and validated biomarker data and enables decentralized monitoring and diagnosis. In the start of 2021, we succeeded to CE-mark a Covid-19 test in our Egoo.Health system for professional use. With a CE-marked product that is in accordance with the new IVD regulations we are in an attractive position to start marketing the product.
Today our focus is on commercializing and the most prioritized markets are the Nordic countries, especially Denmark and Sweden. By our favorable situation, and the significant distribution agreement with Aidian Oy, we can today target the professional market for clinical diagnostic and address larger parts of Europe. The target groups for professional use for us is Hospitals, GPs, health centers, KOL (academia and authorities) and Sports clubs (professional). In the long run we aim to target the home use market where we see that we can make blood sampling convenient, cheap, fast, accessible, and accurate resulting in more frequent blood testing.
2020 was an eventful year for you, and now we are in the second quarter of 2021. What are your goals for 2021 and what will be the biggest challenges ahead?
In 2021 we can break down our goals into two parts:
The first part is to keep on focusing on the product portfolio and development. We are constantly developing biomarkers, but primarily for monitoring clinical and chronic diseases. In 2020, with the corona virus pandemic, we added molecular testing (DNA/RNA) capability in to the Egoo system. In February 2020 we CE-marked the first capsules for Hb/CRP tests and in January 2021 we CE-marked its RNA Sars-Cov-2 test. These tests can now be used in the professional market and our next focus is to CE-mark these tests for home use to approach the consumers. In 2021 we want to finalize development of PHE assay for the specialty field PKU.
The second part is to scale up our production capacity since we are in a high-volume branch. Currently we are at a low-volume production, which is approximately 100 devices per month. We are aiming to reach a mid-volume of approximately 50-200 devices per week. Our goal during 2021 is to invest in outsourcing of device manufacturing in order to reach mid-volume level.
We set high standards for our product and the development of it takes place in accordance with regulatory requirements of the new IVDR, and each test is required to be CE-marked before being introduced to the market. The regulatory process and the quality it entails is resource-intensive, but at the same time necessary. It is a challenge to reach our desired production capacity because device production and quality control is manual and therefore requires significant resources. To achieve a larger output, consistent quality and sustainable manufacturing costs, the production needs to be automated.
On April 21, Qlife announced the signing of the distribution agreement with Finnish Aidian, can you elaborate a bit more regarding what the agreement might mean to you?
For us the distribution agreement with Aidian is a major strategic milestone and is the first step to reach fast roll-out, continuous increased sales activities and to establish a strong base in the clinical diagnostics market. Aidian Oy is a market leading IVD company based in Finland, with a global presence that covers over 60 countries. By our exclusive distribution agreement, we can now cover parts of Europe for the Egoo-Health device and Sars-CoV2-capsules for the clinical diagnostics market. The demand for our Sars-CoV-2 capsule is expected to exceed our current capacity, therefore our focus is on scaling up our production in the short term. The agreement runs initially for three years with the option for both of us a to extend it. The agreement is also structured with the intent of adding additional biomarker capsules to the agreement as they become CE-marked and our production capacity can sustain deliveries.
The value of the contract for the first 12 months is estimated to be around 40-50 million SEK covering the Egoo-health device and Sars-CoV-2 capsule alone.
What would you say are the long-term goals for Qlife?
Our overall long-term goal is to scale up on all levels, with the ambition to target both professional and the home use market. And our vision is to give people access to clinical-grade biomarker data. The global trends on health monitoring and well-being benefit us and make our product attractive globally. Our technical platform with associated capsules enables to potentially perform tests on various types of biomarkers based on a small amount of blood. By develop new capsules enables us to expand the platform to test even more biomarkers.
Can you give us three reasons as to why Qlife is a good investment today?
Firstly, we did an IPO in February 2020 and have been a very good investment, and I still see good potential.
Secondly, our solid position in the market with the distribution agreement in place with Aidian. We are still in the commercialization phase, which make the potential growth vast.
Finally, our long-term goals are to be a unicorn and one of the big players in health and well-being industry, with the vision to enable decentralized testing. We benefit by global trends and we believe that when our technology is available there is a large group of private individuals who want to monitor parameters of their health. Therefore, I believe we will be an attractive investment in the long-term.
---
Qlife Holdings shares ("QLIFE") and warrants ("QLIFE TO1") are listed at Nasdaq First North Growth Market. Two (2) warrants entitle to subscribe for one (1) new share during the period 3-31 May 2021 at a price per share of SEK 17,50.